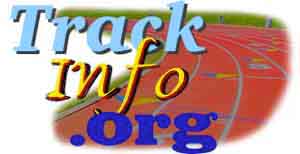 Because there has to be a place.


Last updated November 26, 2010
I do update it more often than the date I have posted. That is not automated.
Select your choice
The main e-mail address to reach us is info@trackinfo.org. I send up occasional errors. If you notice any mistake, even an obvious one, please be specific where it is.
I have just received roundabout complaints from AOL customers that they cannot see this website and e-mails to me get bounced. This is entirely an AOL problem. I cannot reach AOL Tech Support to get them to deal with their issue that is inadvertently blocking this site. All I can do is publicly insult them here until they fix it. Please let your friends know, this site continues to work, but not from the AOL browser or e-mail system. If you use a different browser or e-mail, everything works.
You will note there are occasionally long periods of time where the site is not updated. Sometimes this is due to my crazy work schedule. New information comes in but there is no time to post it. Volunteers are welcome to assist.
I'll comment that more and more sites are using pdf files. Gleaning information from a pdf file slows the work incredibly. Copy and search functions frequently do not work or are blocked, most computer hot keys also do not work. Meet Directors or webmasters--on general principal I discourage the use of pdf files. Make everybody's life better, please use regular html text to post your information.
If you notice any errors or have any additional information to post please send an e.mail to info@trackinfo.org. New information is posted as quickly as possible--sometimes quick is not possible. The information posted here is the best possible, verified when possible but historical and rumored information will be posted. Sometimes events are changed due to weather or last minute decisions--if possible this site will be updated even at the last moment. Always check with the listed contacts and verify before you go.
For meet directors who are not connected, please have them snail mail information to:
Track Info
P.O. BOX 7793
Ventura, CA 93006
Suggestions welcome, you know we'll post what we can. Please e.mail info@trackinfo.org

If you would like me to put together TV coverage of your Track and Field event (or any other kind of coverage for that matter) please e-mail.
Track and Field on television is so rare and poorly publicized that us fans need to join together to find information. If you hear of any other televised track or running event, please e.mail info@trackinfo.org
Times listed are (hopefully corrected for) Pacific Time. Date changes at midnight. Broadcast networks, like NBC do not always match their schedule on the east coast. Without inside information it is hard to tell when they will simulcast the west coast or tape delay it (thus a ? following their times). ESPN events will show 3 hours later (clock time) on the East Coast and other timezones offset accordingly, so barring local blackouts this is a time common throughout the world. These are primarily Southern California schedules, other areas are less dependable especially due to the way Track and Field is ignored by the media.
| | | | | |
| --- | --- | --- | --- | --- |
| 2010 Date | Event | Time | Channel | |
| April 24 | Penn Relays | 5 p.m. | ESPN 2 | |
| June 12 | adidas (Home Depot Center) Grand Prix | 1:30 p.m. | NBC | |
| June 25 | USATF Outdoor Championships | 5 p.m. | ESPN | |
| June 26 | USATF Outdoor Championships | 10 a.m. | ESPN 2 | |
| June 26 | USATF Outdoor Championships | Noon | NBC | |
| June 27 | USATF Outdoor Championships | 10 a.m. | ESPN | |
| June 27 | USATF Outdoor Championships | Noon | NBC | |
| July 3 | Prefontaine Classic | 1:30 p.m. | NBC | |
| | | | | |
In the above schedule, I am guessing the (insane) time (re-)scheduling of the major networks. They plan for the East Coast and sometimes you have to roll the dice to GUESS when they will place it on the West Coast. I also corrected some of the ESPN channel assignments, they were previously listed as ESPN Classic, but are now listed simply as ESPN--who really knows what the network is doing?

August 31

September 7

September 13

September 14

September 28

October 12

November 2
The above links take you to the home page, which for commercial purposes these sites require. WCSN is a subscription service.
Since you are finding this page on line, you are part of the growing revolution for television programming, the autonomy of internet anarchy: Essentially this means we and other media ignored events need to take to our own means of distribution on-line. Thus the In the above schedule, I am guessing the (insane) time (re-)scheduling of the major networks. They plan for the East Coast and sometimes you have to roll the dice to GUESS when they will place it on the West Coast.

Since you are finding this page on line, you are part of the growing revolution for television programming, the autonomy of internet anarchy: Essentially this means we and other media ignored events need to take to our own means of distribution on-line. Thus the WCSN, World Championship Sports Network. Owned by Major League Baseball, for a fee they will bring live (and taped) streaming video of major Track and Field events from around the world direct to your computer. Check out the schedule of events they carry at http://www.wcsn.com/schedule/main.jsp

And if you have interest in High School level Track and Field, check out the Dyestat.com video vault and (also hosted by Dyestat.com) some of my historical video of the California State Meet included here.
The latest find on the internet is Flotrack.com which manages to cover many of the top level american meets. The internet is going to be our souce for a lot of video of our "obscure" sport.

Schedules change from TV market to TV market, some shows are not available in all areas, especially ones on FOX sports affiliates and on local channels. In short, this is not always dependable information but the best possible, because television does not care about our sport.
The FOX Sports Networks carry Track and Field events occasionally, but they have the most chaotic and difficult to track programming schedule. Try as I might (and I have contacted them directly) I cannot get accurate information about future FOX broadcasts. Most I find by accident (because I am always looking). Many of the events I have shot, have ended up on FOX Sports. Even after shooting them, I have no idea when my work will be on the air. So far, no listings found yet.
As you might have read earlier, I have been searching for information to post the European Track television schedule. But despite my searching, the information was about as effectively hidden as it could be. USATF, IAAF had nothing, ESPN, who is airing the meets (listed below) has no mention of upcoming Track and Field on their website (just a few, dated mid-meet articles from the National Championships). Even the production company that acquires the coverage and packages it for ESPN is in hiding. Certainly there have been on on air promos. It was finally through an extensive search of TV Guide that I found the first meet, barely before the meet aired--not much time to publicize it here. When I gleaned the schedule off the telecast, I have got to comment the font they used was the smallest, hardest to read possible (and I did make subsequently discovered mistakes because of it). I realize they have to conform to specific style guidelines, but they should have made this more readable--had there been any caring supervision of the quality of their telecast this would have been picked up.
All this is another underline that it is no longer of importance to the US networks to cover Track and Field. Until we manage to put more butts in the seats and viewers at home to provide those sponsorship dollars, we might not be seeing our sport on TV as much.
No other listings, of course the European Track season is over now. Stay tuned for Road Races
I will pat myself on the back here. This year our coverage was repeatedly changed. I managed to track all these changes accurately and had them posted. No other sources kept up to date. So even though there were other listings posted on the internet, there were at least six different instances where WE were the only correct site.
While looking for the European Track Schedule I noticed there was a heavily eidted three minute package of highlights of the Bislett Games on Gillette World Sports that shows irregularly on the Fox Sports Networks. I was fearing that would be the only coverage we would see. I still suggest you seek this program to see what they offer. With frequent airings, this gives you lots of opportunities.
Editorial: I have had to post TV listings like this because of the rarity of coverage of the sport this site is centered upon. So when our biggest domestic championshipwas on NBC, their competitor CBS chose to put taped coverage of perhaps the second biggest championship meet, then a week old, on directly against it. This is idiocy. Perhaps in the programming offices, this is seen as brilliant counter-programming but for the track fan this can do nothing productive. Admittedly, our numbers are not overwhelming, so if the audience is divided by two programs, neither can show decent ratings. Why should you care? Because future coverage decisions are based on the performance of these shows--most importantly these shows because they are our top events (outside of the Olympics and related). If some executive remembers "they didn't watch the National Championships" that same executive will possibly not green light the next coverage. They probably will not remember that they were submarined by another network. I consider CBS to be at fault here, their taped coverage could have aired at any time and certainly could be moved to a non-conflicting time slot while the live coverage cannot.
Note: As mentioned earlier, Track and Field is not respected by TV executives, so it is second priority (or lower). If a live event (finished even hours ahead of our events) runs long, the Track coverage could be pre-empted or upcut. ESPN is notorious for cutting out full segments in order to adjust their clock. In other words, our program is the sacrificial (ratings loser) get them back on schedule. And when ESPN runs a repeat version of a program, the second time around is much more likely to be pre-empted or upcut. Recently they broadcast the start of the Girls "Footlocker" Cross Country Race, went to a commercial then showed the finish of the Boys race--as if we wouldn't notice or care. You are better off to set your VCR for the first airing of the program, which they won't tinker with as much so they get paid by the advertisers--the second airing is just a bonus.
You the consumer need to watch and vocally support the sponsors of these events or they won't continue to sponsor them and we won't get to see them. If you ever are asked to fill out a diary or work with a ratings service, do not miss a Track or Running presentation--your vote counts heavily for all of us. Complain as we will about the quality of the presentations, without some money and viewership behind our sport, we won't see it on the air at all.
I pick some winners don't I? Our previous host, Breezeland (and the fact that I mention names means I am upset) decided to update their software. That started Friday April 4, so they left us down for three weeks as they tried to make it work. That was apparently a horrible choice because the new software continued to crash. Then their server came under outside attack and everything stopped working again (while they were threatened with being decertified by ICANN.
This site is updated constantly. We do not intend to go away--really I am doing a dance around various internet idiots to keep it working. We expect to serve the participants in the various sports of Track and Field, Road Running and Racewalking with the best information possible as long as this site is necessary. Of course, I hope the responsibilities of this site to eventually be taken over by an official organization that has the resources to keep disseminating this sort of information to the public. In the absence of such, we'll still be here. Bookmark and keep checking this site for new information.
At least we are now free of our former web host Webcountry. Because they were constantly playing around and cutting us off, I was constantly complaining about their bad service. I could document at least 207 instances of service interruptions in less than a year, not to mention the times administration of the site was down. Webcountry considered my frequently unanswered complaints (repeatedly through all means available, e-mails, tech support web page, phone, FAX etc.) to be harrassment and those bastards had the audacity to lock us out of our site. Instead, they posted the notice that you saw the week of January 6. Our only fault was that we continued to use WebCountry--we are now using an alternative. For the purposes of search engines I do not recommend Webcountry or their affiliates. Hopefully we will be rid of them and the problems they have caused. Because the entire site has had to be reloaded, there are going to be mistakes--please let us know if you can't find something.
Visitors since January 1, 2002